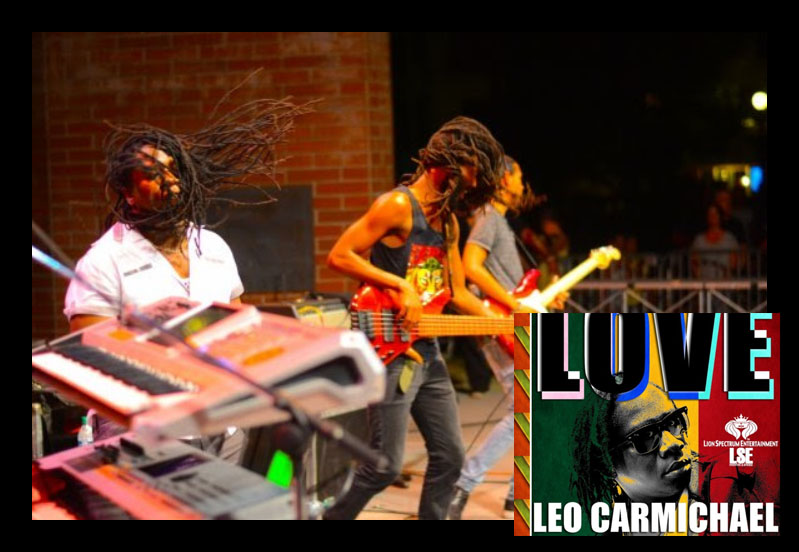 Lion Spectrum Entertainment
Presents Leo Carmichael
Reggae | Dancehall | Pop | Rock
Fused Sound
From Portmore, Jamaica 
 
 
Debut Album:
"LOVE"
By Leo Carmichael
  
Click here to listen to 4 songs
"Afi Get It" " Braata" "Party Deh"
and "Your Love Will Blow Me Away"
 
Get Leo Carmichael's debut album
 
BIO 
"Music is how I fly" is a statement often made by Leo Carmichael. He is known as a versatile entertainer and for authentic delivery across diverse genres. His vision is to touch lives and share love through music and to give to the unloved and less fortunate.
 
As a recording artist, Leo's core sound and vibe is Reggae, Pop
& Dancehall. However, as a producer, he fuses his tracks with elements of Hip Hop, Rock & Latin Music and other genres.
 
Leo Carmichael has firmly established himself as a well-seasoned entertainer and rounded performer. He is known for his warm and welcoming presence onstage and high-energy
live music performances.
 
In the cabaret circuit in resorts along Jamaica's North Coast,
Leo has also been performing several genres: Soul, R&B, Jazz, Funk, Rock and Roll, Rock, Pop to Reggae, Hip Hop and Soca
for over 15 years.
 
On cruise lines he is known for his tribute shows that range from Stevie Wonder, Motown, Journey, Classic Rock, 60s, 70s and 80s parties, to Prince and Michael Jackson covers,
and even country music tributes.
 
Leo grew up in Kingston, Jamaica for a time in the ghettos,
He started playing drums for church and artists from his early years as a teenager, and begun to move about often through his involvement with music, touring and performing.
 
Leo Carmichael has been a Recording Artist and Songwriter for 11 years, and a producer for 7 years. He has written for artists such as Kreesha Turner (Tropic Electric album – EMI Canada), Courtney John, Ishawna, Denyque, Timberlee among several others through The In The Dance Volume 2 TV Show on Television Jamaica (2011).
 
 
This gave him a wealth of experience to create his debut album entitled "LOVE." He executive-produced and produced the album with exceptional help from producers like The Wizard and Jamplified in Jamaica. The album was also mixed and mastered by JTwiss and is released under Leo's label Lion Spectrum Entertainment. It is available on all or major music platforms.
 
With a Diploma with distinction in Performance, Jazz and Pop, (Drum Kit and Voice) in 2008, from the Edna Manley College of the Visual and Performing Arts, he has been performing as a Drummer since 1998 and a singer, songwriter since starting School of Music in 2005.
 
In 2016 he completed a degree in General Management, along with courses in Music Business Management and Artist Management at the University of the West Indies Mona Campus.
 
He has matured as a rounded entertainer, producer, beat maker, drummer, leader and business man, with the sound and presence of a musical legend. Leo Carmichael takes you with him on entertaining journeys through diverse songs spreading love
with every note and every beat.
 
Leonardo C. McFarlane
LION SPECTRUM ENTERTAINMENT 
Creative Innovative & Diverse 
 Business@LeoCoast.com | 876-442-9432
www.LeoCoast.com 
 
Free drops and special offers available for DJs,
Sound Systems, interview programs & media houses
 
CLICK ON COVER IMAGE ABOVE TO BUY AT AMAZON