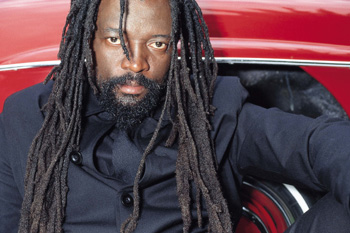 Lucky Dube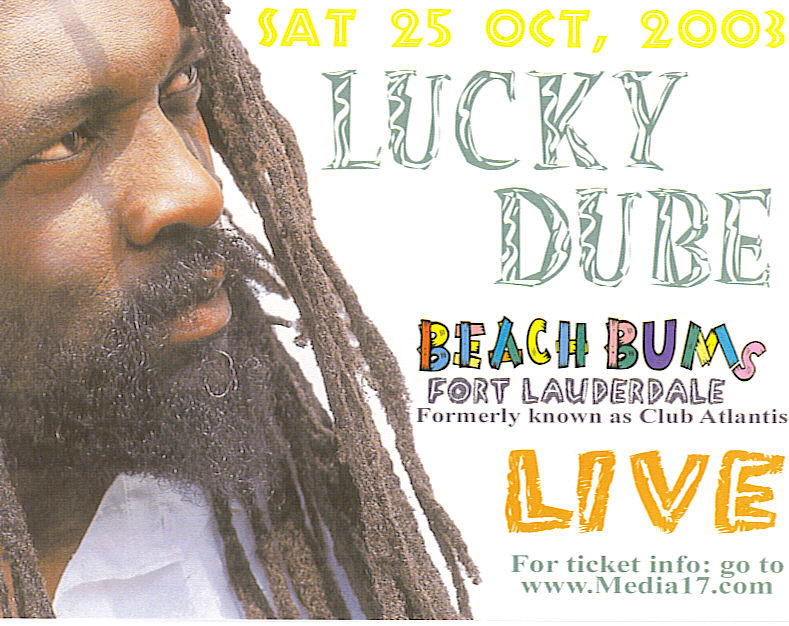 Lucky Dube – Boston, MA – July 12, 1989
Before he was murdered during an attempted car hijacking in Johannesburg on October 18, Lucky Philip Dube, South Africa's world acclaimed reggae artiste, had put an indelible stamp on not only the minds of millions of music lovers across the globe but also on the psyche of those who cherish the virtues of equality, justice and the communality of the human race.
That he achieved the feat with a humble background, an austere education and a daunting socio-political milleau further accentuated his worth that in turn resulted in his preeminence in his chosen career.
His shift to reggae was both deliberate and philosophical. His words: "After listening to Bob Marley, Jimmy Cliff and Peter Tosh, the message was loud and clear and through the music, I could talk to people all over the world. That's why I changed from mbaqanga music, which I only spoke to the Zulu-speaking people in South Africa I don't know politics. All I know is the truth and this is what I write about in my songs. I write about the real things that are happening to me and to the people around me."

If you had a chance to see Lucky Dube LIVE, you were blessed. Each show delivered one of the most joyous and satisfying concert experiences you can ever imagine with Lucky's vibrant mix of Reggae and African Rhythms. On a balmy night in October we got to see Lucky play to a club audience with the sounds of the ocean in the background. Lucky and his band didn't often play in clubs but they were in Fort Lauderdale to be a part of a tribute concert to one of Lucky's main musical influences, Peter Tosh. The tribute show never came off but Lucky honored the pick-up date that had been booked anyway and what a night it was. There is a live DVD out that is very good but it does not do justice to being there.
BBC Review of Lucky's final album Lucky Dube, elder statesman of mbaqanga (traditional Zulu) music and ambassador of South African roots reggae music, returns with his thirteenth studio album and it's as joyful an experience as he's ever conjured. Lucky says that he called the album Respect because that is what the world needs most right now. He says you can live with people even if you don't believe in their beliefs, or even if you don't like what they like; as long as you have respect for them. (''Shut Up'' is Lucky's message to those who can't say anything nice about others.) So love and respect go hand in hand in his eyes. A naïve sentiment? Not if Lucky's vibe percolates into communities worldwide. That pop warmth, radiating from low to upper register with echoes of Pete Tosh and Jimmy Cliff respectively, is still there. The arrangements are built around righteous verses from the non-smoking non-drinking Rastafarian, supported by a cast of talented local musicians: rootical high-amp rhythm section (''Shembe Is The Way''), fanfares of iridecsent brass and multi-tracked female voices on the chorus (the title song is a great example of how traditional African sounds can evolve the reggae form). The guitar work adds just the right amount of zest (check the government-chastising ''Political Games'') as does the secular favourite, the organ ('Never Leave You'). Whether reminding us to celebrate of life or warning us of evil along the way, there are few more galvanising and pleasurable listens than Lucky Dube and Respect, his biggest production yet, is testament to a fine voice and enduring power. Review by

Amar Patel

(2007-06-21) Lucky was one of Reggae Music's top artists of all time. Reggae superstar Lucky Dube (pronounced Doo-Bay) was one of Reggae music's best-selling artists and most outspoken performers. Motivated by first-hand experiences of apartheid's oppression in South Africa, and inspired by the controversial lyrics of Peter Tosh, a youthful Lucky Dube made the switch from traditional Zulu Mbaquanga music to Reggae music. His first Reggae album, Rasta Never Die (1986), was banned from the radio by the then all-white South African government. But Lucky Dube was destined for success, and was to become one of South Africa's biggest artists, and a freedom fighter in his own right. Slave, released in 1989, was Dube's first international breakthrough. He went on to record extensively, to amazing success. Some of his international accomplishments include touring with Peter Gabriel on the first American WOMAD (

World Of Music Arts And Dance

) festival in 1994, performing with Sting at Johannesburg's Ellis Park Stadium, receiving the World Music Award for Best Selling African Artist in 1996, winning over discerning Jamaican audiences at Reggae Sunplash (so successfully in fact, that he was invited to tour with the traveling version of this festival), and playing in front of audiences of up to 80,000 people.

His album, The Other Side, was his debut for the Heartbeat label and featured his unique blend of impassioned vocals, potent lyrics and roots reggae rhythms. In his lower registers, Lucky Dube's voice is reminiscent of his reggae inspiration, Peter Tosh, but he can also unleash a powerful falsetto to rival any of the Motown singers. His passionate melodies, along with the band's tight grooves and trademark fluty keyboards, have set the standard for reggae bands throughout Africa. As always with Lucky Dube's music, the highest production values are utilized. The album was recorded in Johannesburg,South Africa, at the prestigious, state-of-the-art Downtown Studios (where prominent acts including Hugh Masekela, Ladysmith Black Mambazo—even Simply Red and Duran Duran have recorded). The ten songs touch on a variety of subjects. "Number in the Book" encourages sexual responsibility in a time when AIDS statistics on the African continent are dreadfully high. The title track addresses the "grass is greener on the other side" phenomenon, and compares the lives of two men—one Jamaican, the other African—both longing to be in the other's shoes. "Soldier" tracks the guilt associated with killing, even if the killing is in the name of war, ordered by a general. Interpersonal issues of a married couple—each suspecting the other of cheating—are dealt with on "Cool Down." These issues come to a conclusion on "Divorce Party."

Lucky Dube has been a modern day hero with a message that has touched millions of music fans around the world. He's been hailed as "the shining star of African reggae" (Afropop Worldwide), and "South Africa's biggest selling contemporary artist" (Mail & Guardian). New York's The Village Voice says,"The spirit of Lucky Dube's music and dance epitomizes the spirit of Black liberation."

Thousands of friends and fans of South African Reggae star LUCKY DUBE attended the legend's funeral on Sunday, October 28, 2007, when he was laid to rest in the KwaZulu-Natal province. Dube was gunned down in a car hijacking ten days earlier after dropping his children off at a relative's house. He was 43. Mourners travelled from as far afield as Rwanda, Liberia and the U.S. to attend the memorial service and pay their last respects to Dube. He was later buried in a private family ceremony. Police have so far arrested five men in connection with the brutal slaying.

Lucky Dube was a renowned world Super reggae star born on 3rd August in 1964, in a small town called ERMELO some kilometers away from the main capital Johannesburg in South Africa. Lucky's mother saw many of her children pass away at an age of three or four months. When Lucky was born, his late parents feared giving him a name. People called him "Boy". After six months, he was named Lucky Dube. Dube in Zulu Language means Zebra.

He was a Zulu by ethnicity. He released his first Album in 1984. Lucky was in the music scene for 25 years and recorded 22 Albums. Dube was the biggest-selling reggae singer in South Africa and has won over 20 awards locally and internationally. He was a Rastafarian, philosopher, Pan Africanist and legend in his own right, who believed in peace, humanity and justice for the poor. He hated racism and contributed to the down fall of the Apartheid regime where thousands of productive citizens of South Africans died and some were made homeless. The music of the late Lucky Dube is a first class music with messages to the rich and poor, especially world leaders, and condemnation of acts of vandalism and abuse of power.

Some thoughts from visitors to RadioREGGAE.com

Writer One…

Hello brothers at other side of the world. It seems that people around the world are against our culture and they want to destroy it. The death of king of reggae the man himself 'Lucky Dube" shocked

many of our fans, but what we need is to believe in Jah and prey so his and other Lions soul to rest in peace. One day we gone meet them in the holly city of Jah "ZION". May the almighty jah protect and guide his beloved family through this difficult time.

Writer Two…

It's with regrets that we Rasta's from Kenya receive the news of the demise of one of our own. It never occurred to our imagination that such a wicked thing would happen. This story takes me back to what Bob Marley once said, "how long shall they kill our prophets while we stand aside and watch?" I call upon all Jah people to stand strong in this trying time. Everyday is a brand new crisis. Just remember that Babylon kingdom is fallen and Jah shall come 'pon all wicked people with burning sulphur. Stand up straight and help i chant down Babylon. Be strong and keep calm. Jah be with you in this sorrowful moment.

Writer Three…

Jah thee almighty holy one who created the heaven and the earth knows our coming in and our going out and we return unto his glory. We are the ones that seek our father's face. Selah! This is the generation that seeks his face o Jacob Selah. I am an African American and stolen from Africa. I attended a concert in Philadelphia, PA and was in a wonderful trance listening to Lucky Dube and the Slaves. Then when the returned to the United States I saw them in New Jersey. Then I was blessed that day because I met the Slaves and Lucky Dube in their hotel room after the concert. I was bless to win tickets to the show it was the Sunsplash concert that was touring the east coast of the U.S.A. I can not believe how humble they were, Lucky and the Slaves. On stage they were awesome. They spoke with me, a poor oppressed Blackman, that was stolen from the shores of Africa when I was still in my forefathers' loins. They told me that they were from the Zulu peoples and they were beautiful. Then they blessed me with their language it was the most beautiful sound my ears heard and held. The band members talked to me about their language and made the sounds of the letters. Then Lucky Dube and the rest of the group came into the room and they said, "lets give him a demonstration" and they spoke it. This brought a feeling over me I could not explain because it was Spiritual I did not understand what they said but I knew I was suppose to understand and know. But I guess I am the real slave because the damage that slavery did to the African people is unmeasurable. More than the Hebrew children. The almighty Jah Jehovah God has blessed us with the sound of Lucky Dube and the Slaves and for what ever reason I was afraid something like this was going to happen or that maybe I would not see them again in this world. But I thought it would be me because I still want my freedom. I still want to return home to my people and the land that I was stolen from and the place of God. Now Lucky Dube is gone from us. Peace be upon him now and forever he now has a name that the heavenly father has given him and it will be Holy when I see him again. I will hear a new song and I will know the words and the meaning until we meet again peace and peace. The love of Jah will not let us die for we are not done yet.