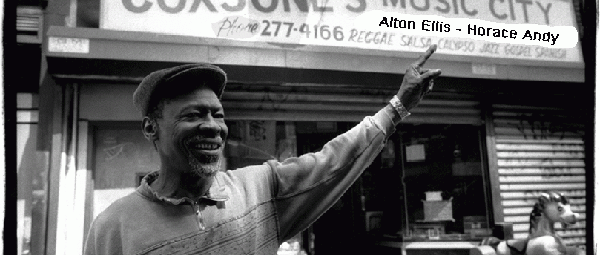 New Year's Eve 1992 at The Swan Club in Toronto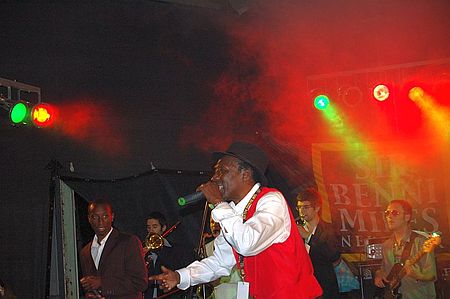 New Year's Eve 1992 at The Swan Club in Toronto
Alton Ellis  
Alton Nehemiah Ellis OD  (September 1938 – 10 October 2008) was a Jamaican singer-songwriter. One of the innovators of rocksteady who was given the informal title "Godfather of Rocksteady". In 2006, he was inducted into the International Reggae And World Music Awards Hall Of Fame.
Born Alton Nehemiah Ellis in Trenchtown, Kingston, Jamaica, Ellis was raised within a musical family which included his older brothers Leslie [who performed as one of his back up singers and co-wrote some of his songs], and Irving [known as 'Niney'] who was a popular singer and steel pan player on Jamaica's North Coast. He learned to play the piano at a young age. After winning some competitions, he started his career in 1959 as part of the duo Alton & Eddy with Eddy Parkins.
By the mid-1960s, ska was moving on and the beat was slowing down to rocksteady and becoming associated with the violent rude boy subculture in Jamaican dancehalls. Many artists made records referring to the rude boys, including Ellis, although his records were consistently anti-rudie, including "Don't Trouble People", "Dance Crasher", and "Cry Tough". Releasing records under the name Alton Ellis and The Flames (the varying line-up of which included his brother Leslie Ellis, David "Baby G" Gordon and Winston Jarrett); the group had hits with "Girl I've Got a Date" and "Cry Tough".
The release of "Rock Steady" (1967) backed by Tommy McCook and the Supersonics, the first song to refer to the name of the new genre, heralded the new direction Jamaican popular music was taking.

Horace Andy
Horace Andy is a Jamaican roots reggae songwriter and singer, known for his distinctive vocals and hit songs such as "Government Land", as well as "Angel", "Spying Glass" and "Five Man Army" with English trip hop duo Massive Attack. He is also famous for a cover version of "Ain't No Sunshine". Andy is often described as one of the most respected and influential singers in Jamaica.
Born: Feb 19, 1951 (age 69) · Kingston, Jamaica
Member of: Horace Andy & The Observers