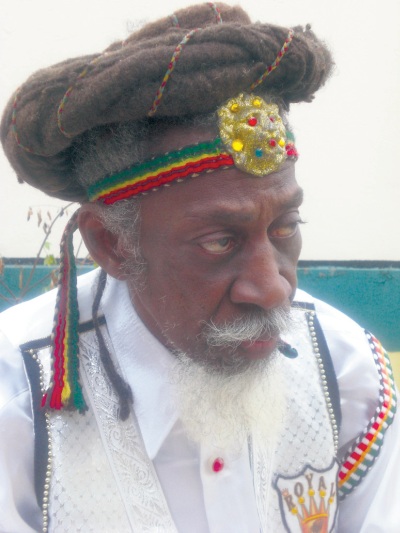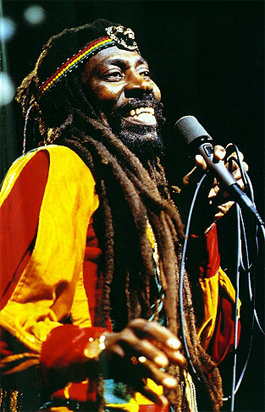 Neville Livingston, better known as Bunny Wailer, was born in 1947 and grew up in Kingston, Jamaica with Bob Marley and Peter Tosh. The three youths began learning to play instruments and singing together, which evolved into the legendary group we know and respect as the Wailers. Bunny was a singer whose strong tenor vocals were used primarily as a harmony singer, but occasionally sang lead, on such tracks as "Dancing Shoes" and "Sunday Morning". When the Wailers signed to Island Records in 1972, Chris Blackwell helped propel the band to a broad worldwide audience.
Bunny Wailer left the group in 1974 to pursue his successful solo career, and also started his own record label, Solomonic, which he used to release all his solo works in Jamaica. The release of Blackheart Man on Island Records was considered one of the most acclaimed reggae albums in past memory. Bunny also wrote the international dance hit Electric Boogie for former I-Three vocalist Marcia Griffiths.
In 1996, Bunny Wailer won his third Grammy award for his tribute to Bob Marley, Hall of Fame was released on RAS Records, and was an honorable and beautiful performance of Bob Marley tunes, which not only paid a moving tribute, but also showcased Bunny Wailer's extensive talent.

More recently, RAS Records reissued Bunny Wailer's classic Dubd'sco, featuring dub versions of some of his most renowned tunes. Dubd'sco shows music lovers worldwide by giving us a glance into the past, that Bunny Wailer is an artist that has earned his reputation as a classic artist who creates music that will last lifetimes.

Bunny Wailer – Red Rocks Ampitheatre – June 30, 2000 – Set 1
Bunny Wailer – Red Rocks Ampitheatre – June 30, 2000 – Set 2

<img src="http://rcm-images.amazon.com/images/G/01/rcm/120×240.gif" width="120″ height="240″ border="0″ usemap="#boxmap-p8″ alt="Shop at Amazon.com">
<img src="http://rcm-images.amazon.com/images/G/01/rcm/120×240.gif" width="120″ height="240″ border="0″ usemap="#boxmap-p8″ alt="Shop at Amazon.com">
<img src="http://rcm-images.amazon.com/images/G/01/rcm/120×240.gif" width="120″ height="240″ border="0″ usemap="#boxmap-p8″ alt="Shop at Amazon.com">