The Soul of Reggae Music, Toots Hibbert
Toots Hibbert, born Frederick Nathaniel Hibbert, has died at age 77. 
Toots has been part of my musical adventure since his performance of "Pressure Drop" and "Sweet and Dandy" in the 1972 movie, The Harder They Come which lifted several Jamaican musical artists to worldwide renown including the movie's star, Jimmy Cliff.  Even though Toots is credited with naming the musical genre Reggae with a song entitles "Do The Regay".  While Bob Marley became an International Superstar building on what is known as "the one drop beat" Toots would take his music in a more soulful direction.  His music is filled with energy and joy filled with the Reggae and Ska beat.  Motown, as much as Trench Town, always inspired his words and music.  One of my favorite albums by Toots is "Reggae Got Soul" and that says it all for Toots fans.  Ziggy Marley, son of Bob Marley, tweeted about the death saying he spoke with Hibbert a few weeks ago and, "told him how much I loved him we laughed & shared our mutual respect," adding, "He was a father figure to me."  
I first met Toots in 1995 in the backstage area of Reggae SumFest.  Toots and his band The Maytals were one of the bands featured during five days at Catherine Hall in Montego Bay, Jamaica.  This was a massive production with top professional talent brought in to record and film the entire event.  I was there as part of the promotion and marketing team.  Reggae SumFest was birthed in 1993 by fathers Johnny Gourzong and Robert Russell. The inspiration for SumFest came from the downward spiral of a former local festival, Reggae Sunsplash. As Reggae Sunsplash eventually died out, Gourzong and Russell imagined an even greater reggae event.  You can get many of the details in the SumFest Feature section at this website including recordings of most all of the performances with the notable exception of Toots & The Maytals.  That was actually why I met with Toots and his manager in their trailer dressing room.  I attempted to get them to agree to be recorded for the production but fearing that they would get ripped off – as was a common occurrence in the Jamaican Music business – they refused to sign any agreement.  As it turned out the lack of follow through on the part of festival organizers left them with a state-of-the-art production that would never see the light of day – they never really got the rights to do anything legally with all the great material.  I believe on this site is the only almost complete recording from five magical days in JA.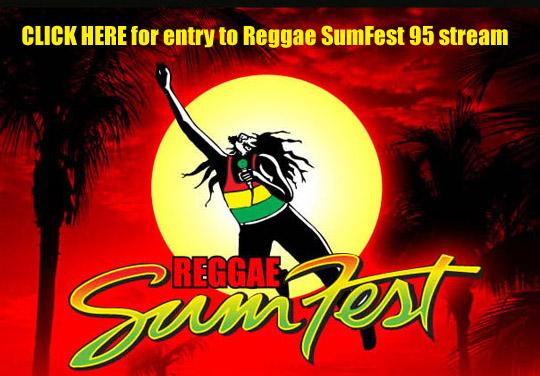 Toots BBC Special – Part One
I would not get to speak directly with Toots again but had the pleasure of seeing him perform numerous times.  If you have attended a performance you will know how Toots and The Maytals could lift the Spirits of everyone in attendance even while mixing social issues, romance and life experience in his lyrics.  A wonderful thing is that Toots never stopped.  From collaborations with many other top artists over the years including some great performances with Playing For Change Toots continued to treat the world to his brand of sound vibrations.  For this we truly give thanks and praises.  At 77 years old and only a couple of months before his death from complications caused by the Covid 19 virus, on June 10, 2020 Toots released what will be his final recordings, an album titled "Got To Be Tough".  As one reviewer noted, the new album has all the freshness and energy that gave his first albums fifty years ago their great appeal.  We will all miss Toots but his energy and Soul shall be with us always.  His music is a lasting legacy that will continue to be heard by new ears and uplift their hearts as it has mine.  I would say the most dominant impression I had from our one meeting was that he was a kind and compassionate being hopeful of always lifting people's Spirits.  I think he will continuously see that dream come true.
Toots BBC Special – Part Two