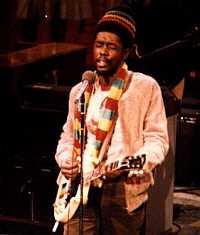 Peter Tosh, OM (born Winston Hubert McIntosh; 19 October  1944 – 11 September 1987) was a Jamaican Reggae musician. Along with Bob Marley and Bunny Wailer, he was one of the core members of the band the Wailers (1963–1976), after which he established himself as a successful solo artist and a promoter of Rastafari. 
Peter Tosh exploded onto the world stage as an activist and solo artist with his 1976 release, Legalize It!

The 

Rolling Stones

' US Tour took place during June and July 1978 with

Peter Tosh as an opening act.  Peter was 

sometimes joined by Mick Jagger for their duet "Don't Look Back".
Tosh worked to promote the legalization of herb, equal rights, and to expand Jamaica's cultural and musical influence. Peter was no stranger to oppression in his homeland and knew the fight for legalization and equal rights well. His music served as a catalyst for a generation to fight for what they believed in.